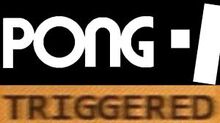 How Pong TRIGGERS You! is a video uploaded by Nathaniel Bandy on the 1st of April 2017.
This video is a part of the Triggered Series.
The video was an April Fools.
Features: Nathaniel Bandy, Digicast Pong Ball, Pong Rectangle 1 and Pong Rectangle 2.
Opening Warning: Warning: The following video is an April Fool's joke, so I don't even know Pong it wasn't the first game ever so stop believing that nonsense okay?
How it TRIGGERS You!
There isn't any color.
No music, just boring SFX.
The shield movement's sensitivity cannot be changed.
The game can only be played up to 11 points.
The score is hard to understand.
There aren't multiple types of maps.
The textures are way too pixelated.
No texture filtering.
No online play.
The reason the two blocks are fighting is unexplained.
No touchscreen.
It isn't a Nintendo exclusive.
Pong is boring.
The ball goes through the score.
It isn't even a ball, it's a square.
Old people see gaming as Pong only now.
On computer, it says to insert a quarter but there's nowhere to insert it.